Digital Restoration of Traditional Patterns and Original Product Development for ONJIUM

ONJIUM, a research institute for Korean traditional culture, consistently archived traditional Korean textile patterns. Studio fnt reproduced these patterns digitally and developed new products using them. First, ONJIUM and studio fnt picked four patterns together. These patterns contain characteristics of the four seasons. We chose these among all of the designs in the Korean historical records from the 14th to the 19th century. We dissected the characteristic elements of each design into a digital pattern, and we used the woven-lined graphic to express the texture of the original fabric. Below is the list of the reprinted patterns.
Spring: Butterfly Pattern (Early 14th century, Goryeo)

Summer: Grape Pattern (Early 17th century, Joseon)

Autumn: The Four Gracious Plants Pattern (Early 19th century, Joseon)

Winter: Auspicious Flower Pattern (Early 14th century, Goryeo)

Using this pattern data, we developed an original series of silk-screened prints on Korean traditional paper, Hanji. Traditional colors such as jade green, pale brown, and white which were often used in the clothes of the late Joseon Dynasty (worn by noble families), were combined to express the three-dimensional look and feel of the original pattern. Next, using these Hanji as source materials, we created various items, including envelopes, paper fans, and toilet paper cases. ONJIUM also used it to make lacquered placemats on the dining table.

Another use case was a series of linen kitchen cloths commissioned by a Finnish company, Lapuan Kankurit. These modernized reprinted patterns woven products are good examples of the significance of digitized traditional pattern projects.

Photo: Jandee Kim / Styling: Jiyoon Moon(bureau de claudia), courtesy of ONJIUM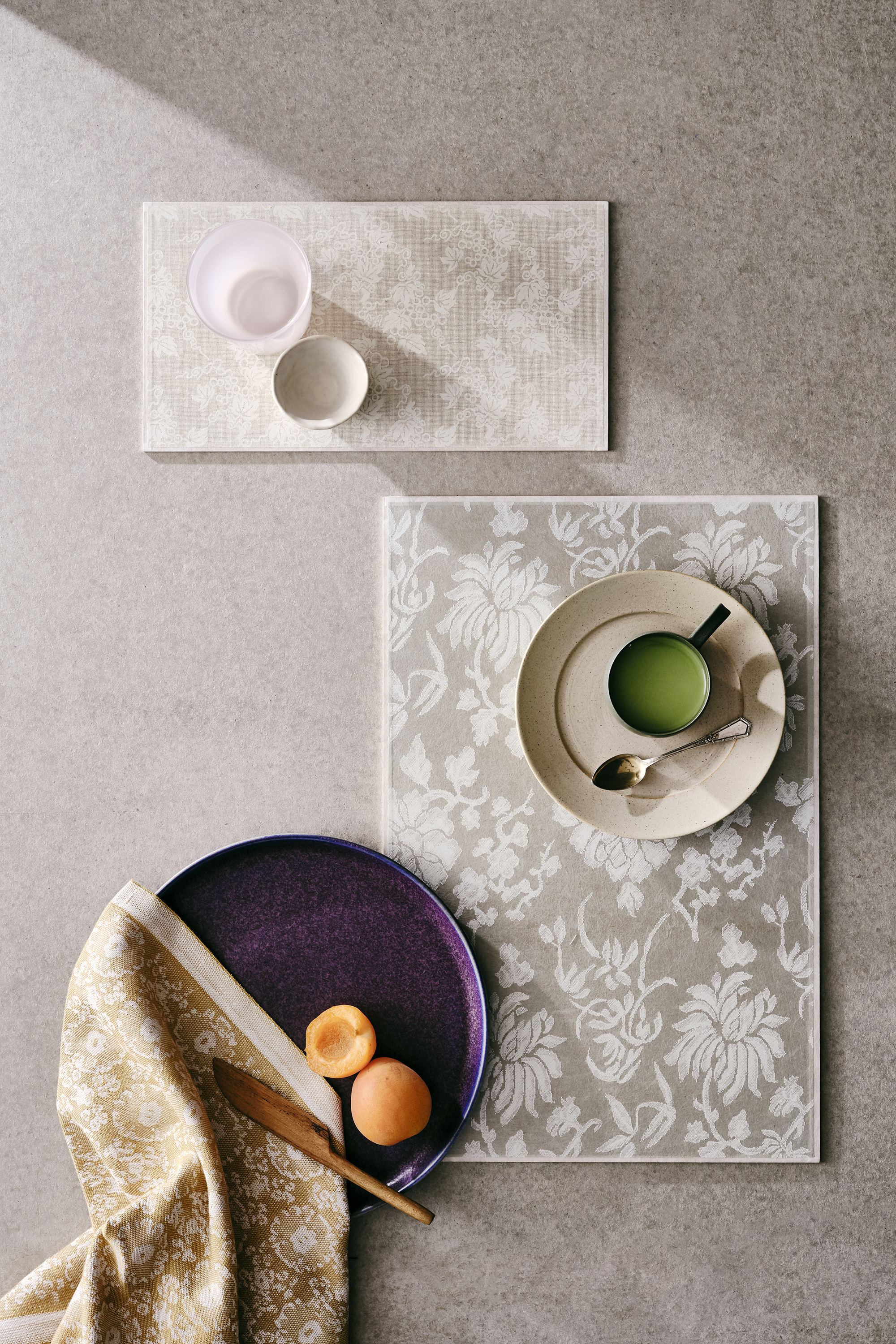 Photo: Jandee Kim / Styling: Jiyoon Moon(bureau de claudia), courtesy of ONJIUM
- Creative direction: Heesun Kim
- Art direction: Woogyung Geel
- Graphic design: Youjeong Lee, Solla Koh
- Product design: Woogyung Geel, Youjeong Lee, Jeongmo Yang (Hanji Lighting)
- Production management: Woogyung Geel, Yeseul Lee (ONJIUM)

- Client: ONJIUM
- Year: September 2021
---
© 2023 studio fnt. All rights reserved.