EDIYA BEANIST
EDIYA is a representative coffee brand in Korea. Based on its excellent quality and sound management policies, it has the largest number of stores in Korea among all local and international coffee franchise brands, including Starbucks (EDIYA's 3,000th store opened in November 2019).

EDIYA's next goal is pioneering a new coffee market by launching home brewing and RTD(Ready To Drink) products, thanks to the fact that Korean people are very familiar with instant coffee. EDIYA reckoned that with the current income levels in Korea, there is room for a much greater increase in home brewed coffee consumption.

EDIYA understands consumer's demand and taste real-time, through the day to day operation of its stores. It has its own system that covers the entire manufacturing process including raw material sourcing, and it also operates a coffee laboratory. All of these values lead to an excellent infrastructure in the large competitive market.
Studio fnt was in charge of branding and packaging design for BEANIST, which is the new home brewing brand of EDIYA. We worked in hopes to take EDIYA's secure brand value, and give its new brand a clear presence in the competitive instant coffee market. At the beginning, there were concerns whether to prioritize the parent brand, EDIYA, or to highlight the new brand, BEANIST.
We ended up designing the packaging by emphasizing the graphic elements that represent store signs of EDIYA, so as to make it stand out in various sales channels, such as large stores where numerous brands coexist and compete. Along with the brand, which accounts for about 50% of the front of the product package, the information hierarchy of the product's name, taste, and details was also aimed to be clearly identified, with a little wit.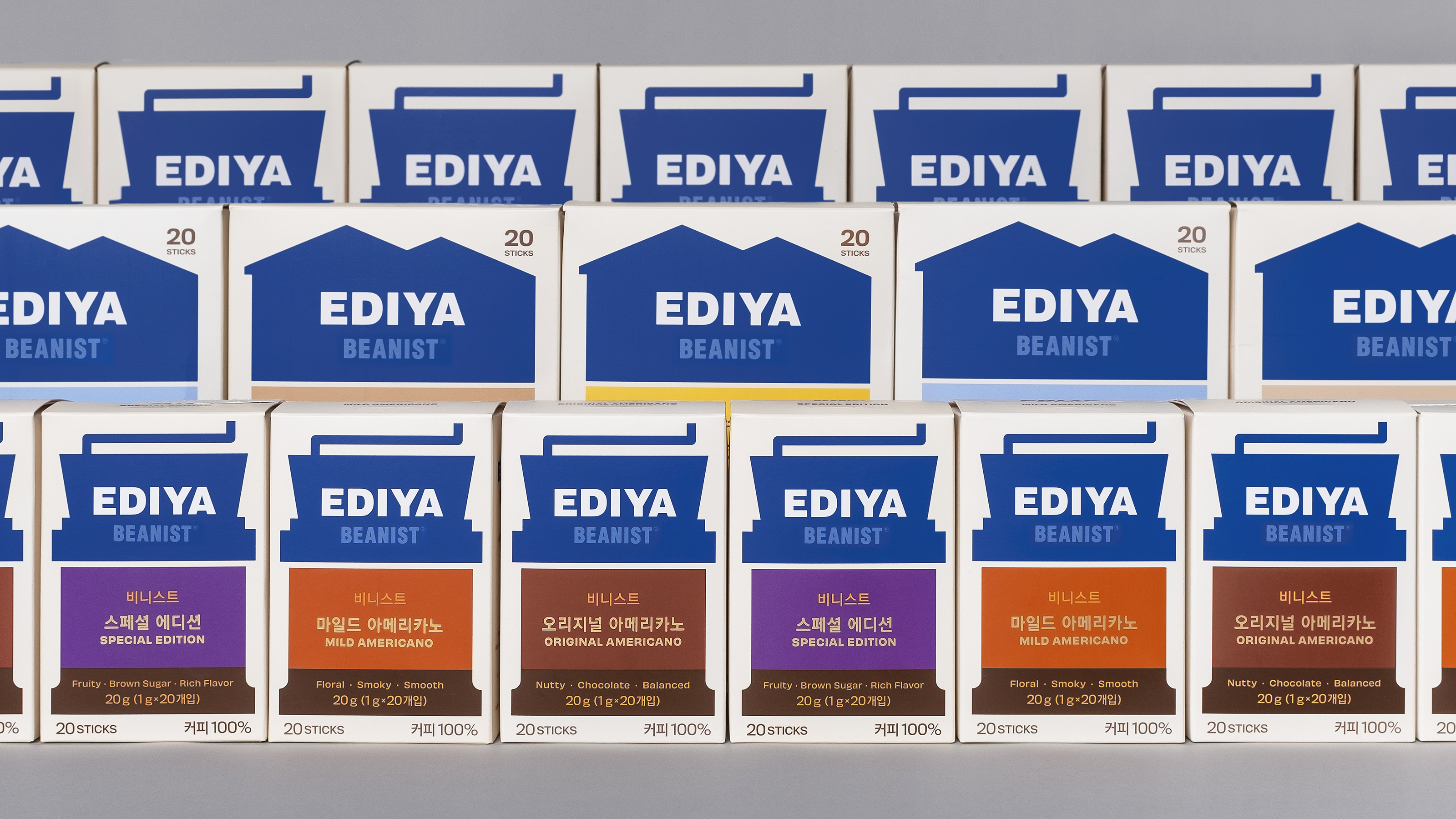 -
Creative direction: Heesun Kim
- Art direction: Jaemin Lee
-
Graphic design: Solah Koh, Hyungwon Cho, Youjeong Lee, Jaemin Lee
- Client: EDIYA
- Year: July 2020
---
© 2023 studio fnt. All rights reserved.