Mediator between Heaven and Earth,
Shaman
A series of graphic design for the exhibition 'Mediator between Heaven and Earth – Shaman' at The National Folk Museum of Korea. It includes design for promotional materials, such as posters, banners, an invitation card, and exhibition graphics like information panels, sign system and wall graphics.
It is common that folk arts and culture are considered as old and jaded. It was important mission to mash-up the old and new and hopefully to gather more interests from the domestic crowds.
For the foreign crowds we wanted to communicate what the exhibition is about without for them understand Hangul.
From the curating point of view 'Shaman' is a mystic and alien subject. Hence, our mission was to create a balanced graphic that is not so light nor heavy. Also the exhibition covers the Shamanism in Himalayas, Siberia, Middle East and Korea. To represent different cultural aspects of Shamanism in unity was also a challenge.

This exhibition had a long period of incubation. There were 500 pieces of relics and researched documentations collected and presented across the Himalaya, Siberia, Middle East and Korea. These relics, such as 'Shamanist Costumes', 'Spiritual Statues', 'Spiritual Masks', besides their form of beauty, focus on the person, 'Shaman'. Therefore, we decided to focus on 'Shaman' before the form of relics as a design approach.
We used three amazing photographs of Shaman from Nepal, Ainu and Korea. A series of poster uses crossing lines as a connecting motif, three different Shaman under a bigger umbrella of its own. The Gold background was chosen to represent theocracy and the red, blue and yellow are the primary colors used in Shamanism.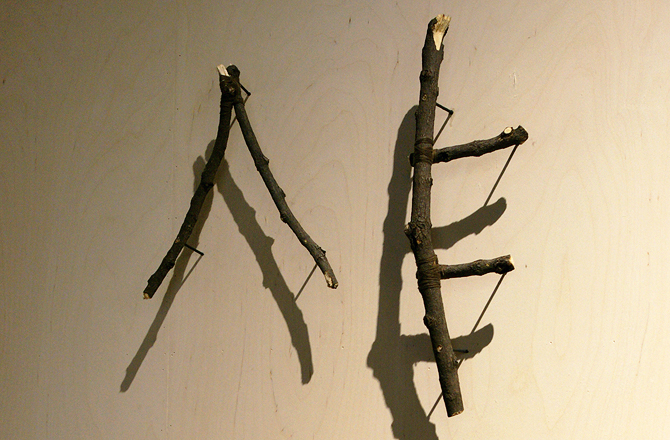 - Design: Jaemin Lee, Woogyung Geel and Hwayoung Lee
- Illustration: Hyekyung Shin
- Client: The National Folk Museum of Korea
- Year: November 2011
---
© 2023 studio fnt. All rights reserved.