Osoree Tea
Brand identity



Osoree is a tea brand made by lifestyle select shop TWL, and graphic design studio fnt. Everyday, badgers (Osoree, in Korean) living in the woods travel back and forth the same, narrow trail. They make their homes by digging tunnels and caves, for many generations. Osoree was created to propose a tea that brings joy and rest, as we walk our trails of life and encounter transitions of different seasons on that path.


We are introducing two types of tea first; Osoree Tea, which offers relaxation and comfort like a cozy hideaway in the woods, and Japanese Apricot & White Tea, scented like spring plum and plum blossoms. We illustrated the appearance of the badger in detail, who seems to be enjoying the preciousness of everyday life. The different tea types are colored in a way that reminds the viewers of their individual taste and fragrance.



A badger has a strong body and is a powerful fighter, that even the lions avoid to fight them. One thing that this badger does better than fighting though, is digging. It carefully chooses a ground in the woods or a plain field, and builds its home dozens of meters below the ground. The interior is made up of a few large and small rooms, a warehouse, multiple entrances, and separate toilets. They are clean and always keep the home warm and dry. When the season changes, the house is cleaned swiftly, and the fresh, soft leaves are prepared. As they cherish their homes and maintain them in a good condition, badgers have to walk back and forth the same route to the woods everyday, creating a trail. This 'trail' is called Osol Gil and is derived from Osoree Gil, meaning badger trail.

On the contrary to the badger's tough fighter personality, they are sensible enough to clean themselves before they enter their home. On a sunny day, they bring out damp grass and leaves from their house, and leave them out to dry. Let us imagine a day in the life of a badger Osoree, the protagonist of the Osoree trail, and the architect of a clean home, deep below the ground. On the trail they walk daily, we can see the transitions of nature between seasons, smell the deep forest, and enjoy being relaxed at home after a day out. Interestingly, these are the same senses we experience when drinking a good tea. The mood doesn't have to be solemn or elegant to enjoy our tea; it will make you feel at home, as you intake and enjoy the seasons blended within it. We are starting the story of this tea, with the name of Osoree.
Osoree Tea
It is the representative blend of Osoree, which gives you the comfort as though you are enjoying a relaxed time in a cosy hideout in nature. It is the everyday tea, in our badger's favorite spot in its adored little house in the forest.
You can enjoy the sweetness, fondness and a faintly sugary scent through the combination of carefully selected grains, Hōjicha and Madagascar's whole vanilla.
Japanese Apricot & White Tea
It is a tea that carries the beautiful scenery of spring and the scent of plum blossoms. When the white flowers that look like popcorn begin to bloom on the plum branches, you will finally realize that spring has arrived.
With the organic white tea from Nepal's Zuni Yabari as a base, we added beautiful and clean plum petals gathered from around the South Sea. Drink this tea as you wait for, enjoy, and memorize the Spring season.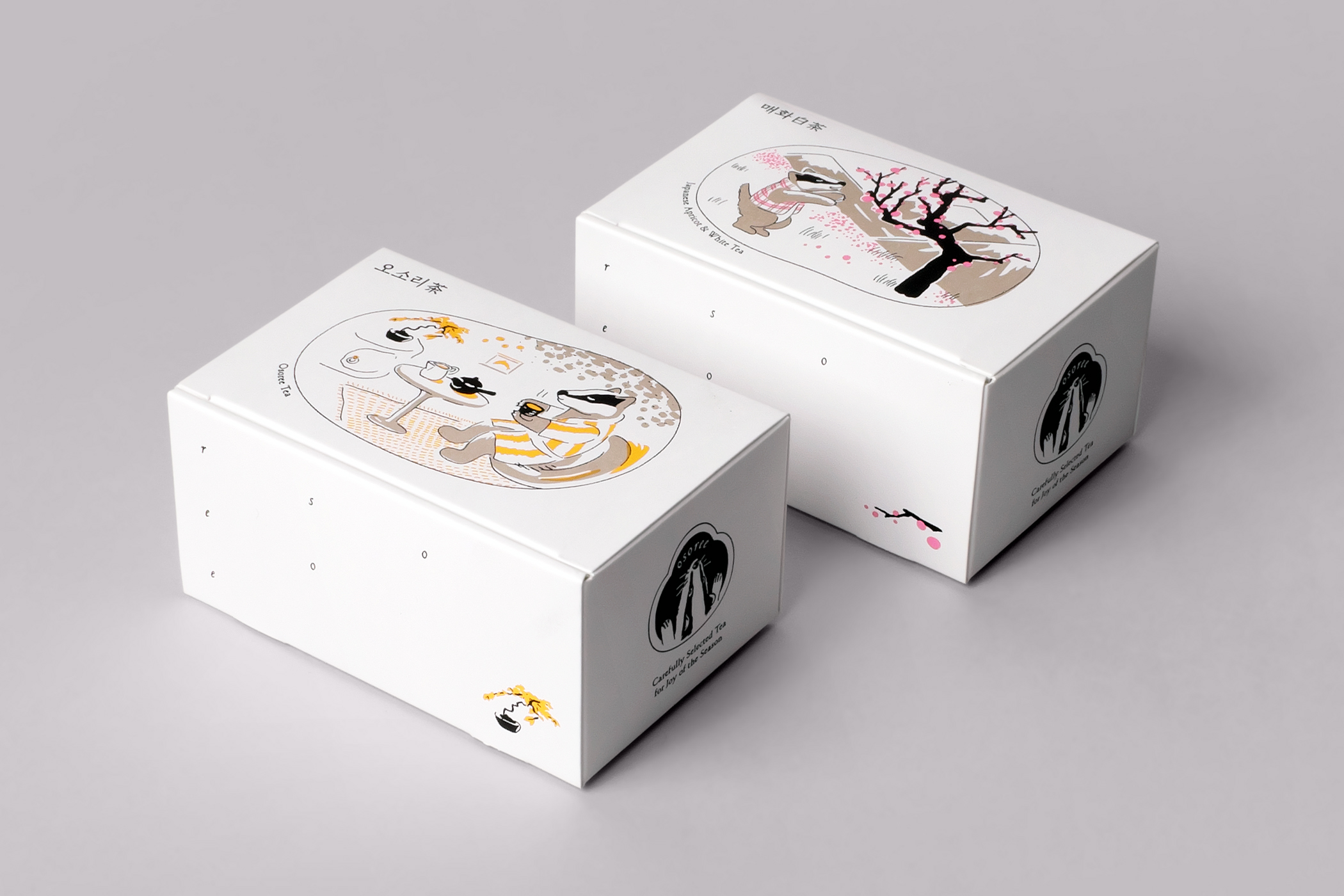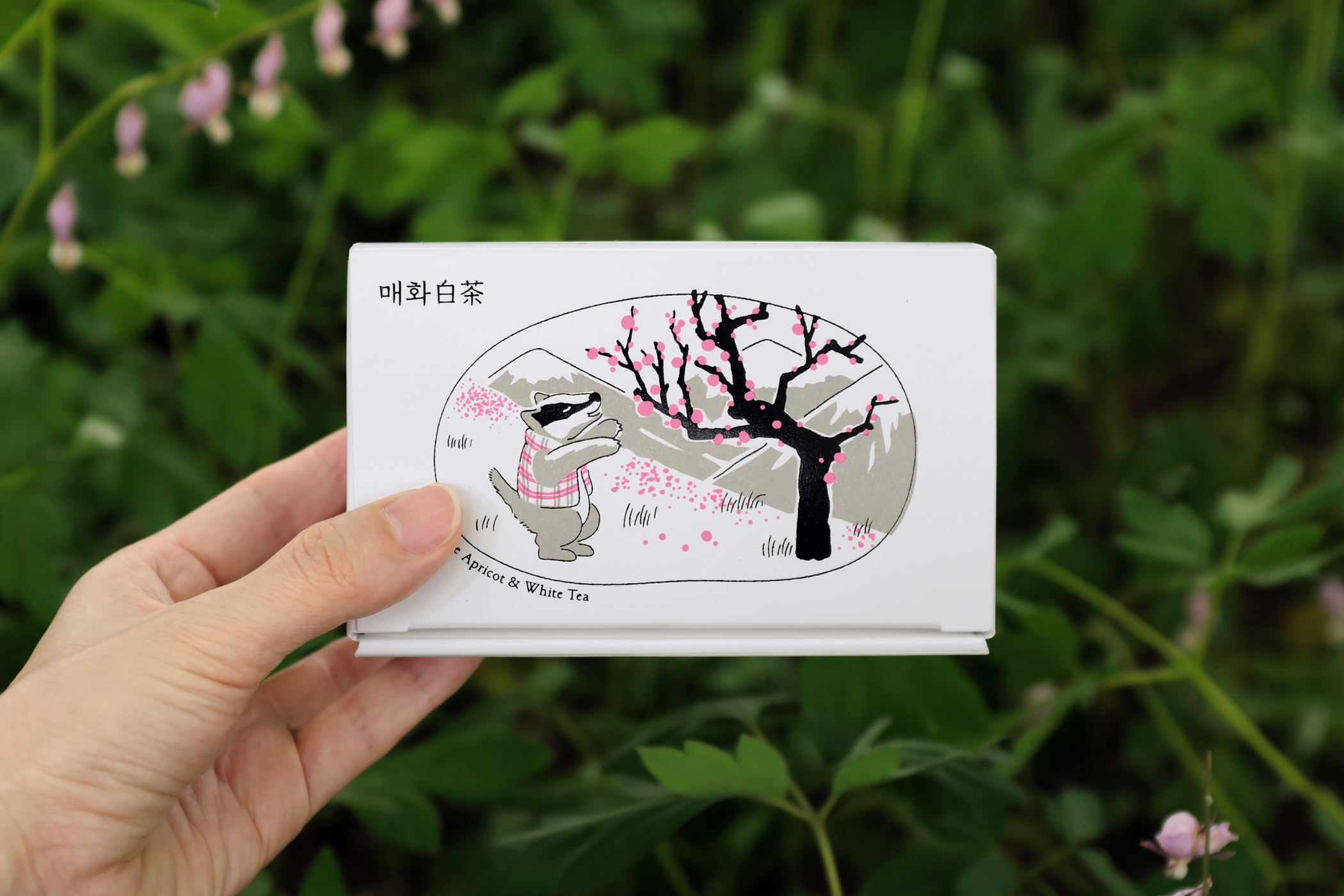 - Product planning: Heesun Kim, Woogyung Geel, Jieun Han with TiERIS
- Design and illustration: Jaemin Lee, Heesun Kim and Woogyung Geel
- Photography: Jaemin Lee and Heesun Kim
---
© 2019 studio fnt. All rights reserved.